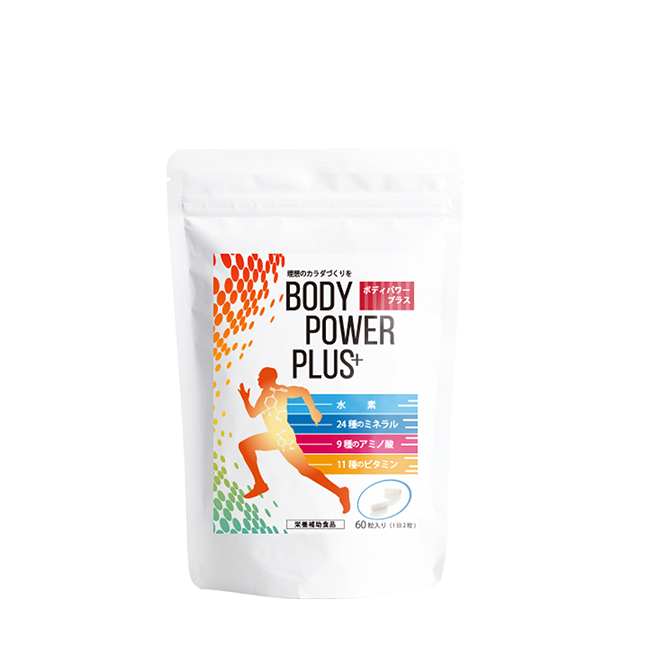 Body Power Plus is a hybrid supplement containing 9 amino acids and 11 vitamins combined with hydrogen storage coral calcium.
Our body is about 60% water, and about half of the water is made up of protein = amino acid.
Protein is an important component of the blood, hemoglobin, enzymes and hormones, as well as the built-in skin, hair, muscles, and digestive tract. In addition, vitamin supplements that promote efficiency have been added, and hydrogen supplements have been launched to support active people.
Japanese translation of Body Power Plus
Development history
A balance of amino acids such as BCAA, which is important for keeping sports comfortable.
Of the 20 amino acids that make up proteins, 9 amino acids cannot be made in the body. This is called an essential amino acid and must be taken from food.
Nine essential amino acids (BCAA (valine, leucine, isoleucine), lysine, methionine, phenylalanine, threonine, tryptophan, histidine).
Opportunities for newspapers, health magazines, and TV / radio health programs often include topics such as "strengthening up", "endurance up", "fatigue up", "immunity up" and "fat burning up" In many cases, amino acids are closely related to these functions.
In addition, in order to improve the work of coral-derived minerals efficiently, vitamin C, vitamin E, niacin, pantothenic acid, vitamin B1, vitamin B6, vitamin A, folic acid, vitamin D, vitamin B12 are blended, so sports people Not just for those who are concerned about muscle loss.
Body Power Plus description
product name
Coral powder containing food
Internal capacity
22.8g(380mg×60tablets)
Raw material name
Coral calcium, HPMC, VC, L-leucine, L-lysine hydrochloride, L-valine, L-phenylalanine, L-isoleucine, L-threonine, L-methionine, L-histidine, extracted vitamin E, niacin, L-tryptophan , Pantothenic acid Ca, vitamin B1, vitamin B6, vitamin B2, vitamin A, folic acid, vitamin D, vitamin B12
Main ingredients
Heat quantity 1.6kcal
Protein 0.08g
Fat quality 0.01g
Carbohydrate 0.31g
Salt equivalent amount 0.31mg
* 2 capsules (760mg)
type
Capsule type
Final processing country
Japan
Feature
Contact with water generates hydrogen. Hydrogen is generated stably in the body for a long time.
* Since it is sensitive to humidity, care must be taken for storage.
please note
・ Consume with 2 tablets a day with water or hot water.
-Hydrogen storage coral calcium is processed to generate hydrogen when it comes into contact with moisture.
・ If you are worried about food allergies after checking the ingredients, please refrain from using it. Also, depending on your constitution and physical condition, it may rarely fit your body. In that case, please stop using and consult your doctor.
・ If you are prescribed medicine or are in the hospital, please consult your doctor.
・ After opening, close the seal tightly and store away from direct sunlight and hot and humid places. Use as soon as possible after opening.
Please put out of reach of children.
・ Eating habits are based on staple foods, main dishes, and side dishes.
Hydrogen raw material inspection
NAD Test results
Amount of hydrogen are about 4.43303243×1020Pieces/g
1g, amount of hydrogen per hour
※Survey by World Hydrogen Standards Association
※Reference value
Redox potential
-590mV
※Survey by Food Analysis Center
※Reference value
Dissolved hydrogen amount
14.72ppm
※Survey by World Hydrogen Standards Association
※Reference value
Manufactured in GMP certified factory
Manufactured in compliance with the Health Food GMP Guidelines of the Ministry of Health, Labor and Welfare at the Japan Health and Nutrition Food Association GMP certified factory. GMP is an abbreviation for Good Manufacturing Practice. The purpose of GMP is to build an appropriate management organization and implement work management (quality control, manufacturing control) from receiving raw materials to final products (or receiving raw materials to raw materials) (GMP software), It is to ensure product quality and safety by constructing appropriate structural equipment (GMP hardware).